WHAT IS GATHER?
Gather is an annual grassroots fundraising weekend where people gather across the city to learn about and support Jones Valley Teaching Farm's nationally recognized food-based education model Good School Food.
HOW DO I PARTICIPATE?
Post a photo or video on your own Instagram/Facebook (during May 14th through the 17th) of you or your family doing an "At-Home Activity" or making one of our recipes from our blog. Feel free to get creative with it! Can't do it that weekend? No problem; we'll post your projects throughout the rest of May.

Short on time? Share one of our posts on your own account instead.
Don't have social media? Email photos or videos to gather@jvtf.org and we'll feature you on our page!

Think about why you participate in Gather, why you support JVTF, encourage people to give, etc. and put it in writing.

Sample copy for caption (can be written out or spoken): I'm "gathering" in support of Jones Valley Teaching Farm because [XXXX]. Visit their profile (@jonesvalleyteachingfarm) to learn more about their work in the Birmingham community and how you can support them. You can text "JVTF" to 41411 or visit dev.fotype.com/jvtf/newgather to give. #jvtf #jvtfgather
Use the hashtag #jvtfgather and tag @jonesvalleyteachingfarm so we can find your post and share it!

Nominate (tag) 2 people to Gather (think ice bucket challenge)
SAMPLE POST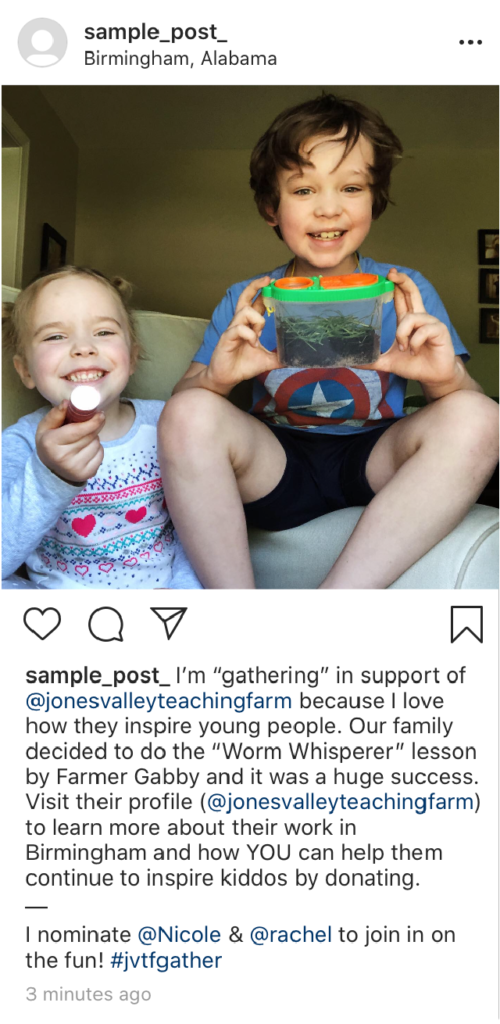 AT-HOME ACTIVITIES
Make a bouquet (tutorial coming)
Make our "Crop of the Month" recipe and learn/share the nutritional benefits of that fruit or vegetable
Check our Instagram for more activities!
RECIPES
Rainbow Ratatouille

Ingredients:

1 onion, sliced thin
4 cloves of garlic, minced
½ cup olive oil
3 Rainbow carrots, coined
2 ribs of celery, minced
1 ½ cups of tomato sauce
½ tsp dried oregano
½ tsp dried thyme
½ tsp cumin
½ tsp parsley
Salt and pepper to taste
1 lb. Rainbow noodles
1/2 cup Parmesan cheese

Preparation:

In a large skillet, cook the onion and garlic in 2 tablespoons of olive oil over moderately low heat, stirring occasionally, until onion is softened. Add the remaining 3 tablespoons oil and heat it over moderately high heat until it is hot but not smoking.

Add carrots and celery and cook, stirring occasionally, until veggies begin to soften. Pour tomato sauce and spices into carrot and celery saucepan, stir thoroughly to fully incorporate.  Simmer on low, until veggies are cooked through. 

While the carrots and celery are cooking, in a medium size pot boil water seasoned with salt. Once the water is brought to a boil, add the noodles and cook until tender. Drain water and set noodles aside.

Combine vegetables and noodles. Sprinkle with Parmesan cheese, serve, and enjoy!
Carrot Pancakes

 Ingredients

1 ½ cup whole wheat flour

1 ½ teaspoon baking powder

1 teaspoon baking soda

1 teaspoon salt

1 teaspoon ground cinnamon

½ teaspoon ground nutmeg

½ teaspoon ground ginger

1 ½ eggs

3 tablespoons brown sugar, packed

1 ½ cups buttermilk

1 ½ teaspoon vanilla extract

3 cups finely grated carrots

Butter, for griddle

Directions

In a large bowl, whisk together the flour, baking powder, baking soda, salt, cinnamon, nutmeg and ginger.

In a smaller bowl, whisk together the egg, brown sugar, buttermilk and vanilla.

Stir in the carrots, then dump the wet mixture into the dry mixture all at once. Stir just until incorporated.  While mixing, have your griddle preheating.

Over medium heat, melt a big pat of butter in a cast-iron skillet or griddle. Pour ¼ cup batter into the hot pan, using the measuring cup to pat the batter down and out a bit. Cook, flipping once, until the pancakes are golden on both sides.