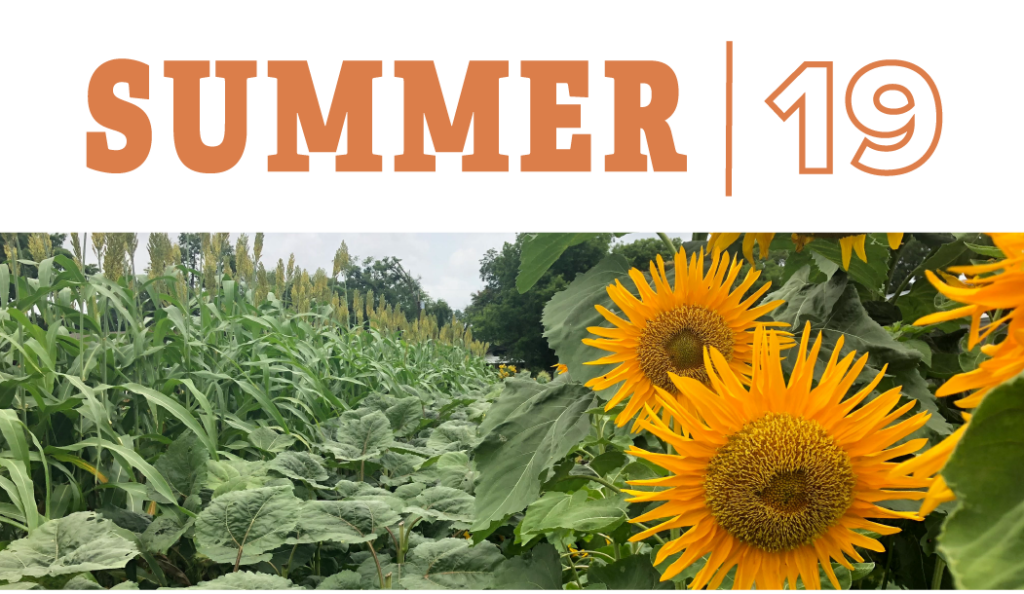 This summer, Jones Valley Teaching Farm hosted Camp Grow — a free, three-week summer program on the Teaching Farm at Woodlawn High School offered to 20 middle school students from Hayes-K8 and Putnam Middle School. Camp Grow focused on all things culinary including skills in the kitchen (such as knife-handling, seasoning various dishes, and exploring different cooking methods, etc.) while also discussing the importance of access to fresh food within a community and what it means to eat seasonally. We even took field trips to local restaurants (Rodney Scott's BBQ, Post Office Pies, Bottega Dining Room) to interview chefs about their own food journeys, their strategies for creating fresh, tasty menus, and their involvement with their surrounding communities. For the duration of camp, student worked on a team to create a unique dish, using produce that's growing in the space. On the last day of Camp Grow, teams presented their dishes at a Community Dinner on the Farm.
WEEK ONE:
During week one, campers got to know each other and the Teaching Farm as they talked about the relationship between food and communities and brainstormed ideas for recipes. We went over different types of knifes, how to use them safely, and different types of cuts as well as the different heating methods (conduction, convection, and radiation).
On day three, campers got a visit from Chef Ama Shambulia! They interviewed Chef Ama to learn about her experience as a chef working closely with her community. She lead everyone through the process of making their own unique vinaigrette to drizzle over some cucumbers from the farm.
We closed out the week with "Chopped: Farm Edition!" Campers could only use produce from the farm along with a few other ingredients to create a dish as a team. The competition was tight, but team "Veggie Heroes" pulled off the win with "best dish" and team "Shadow Wolf" earned "most creative."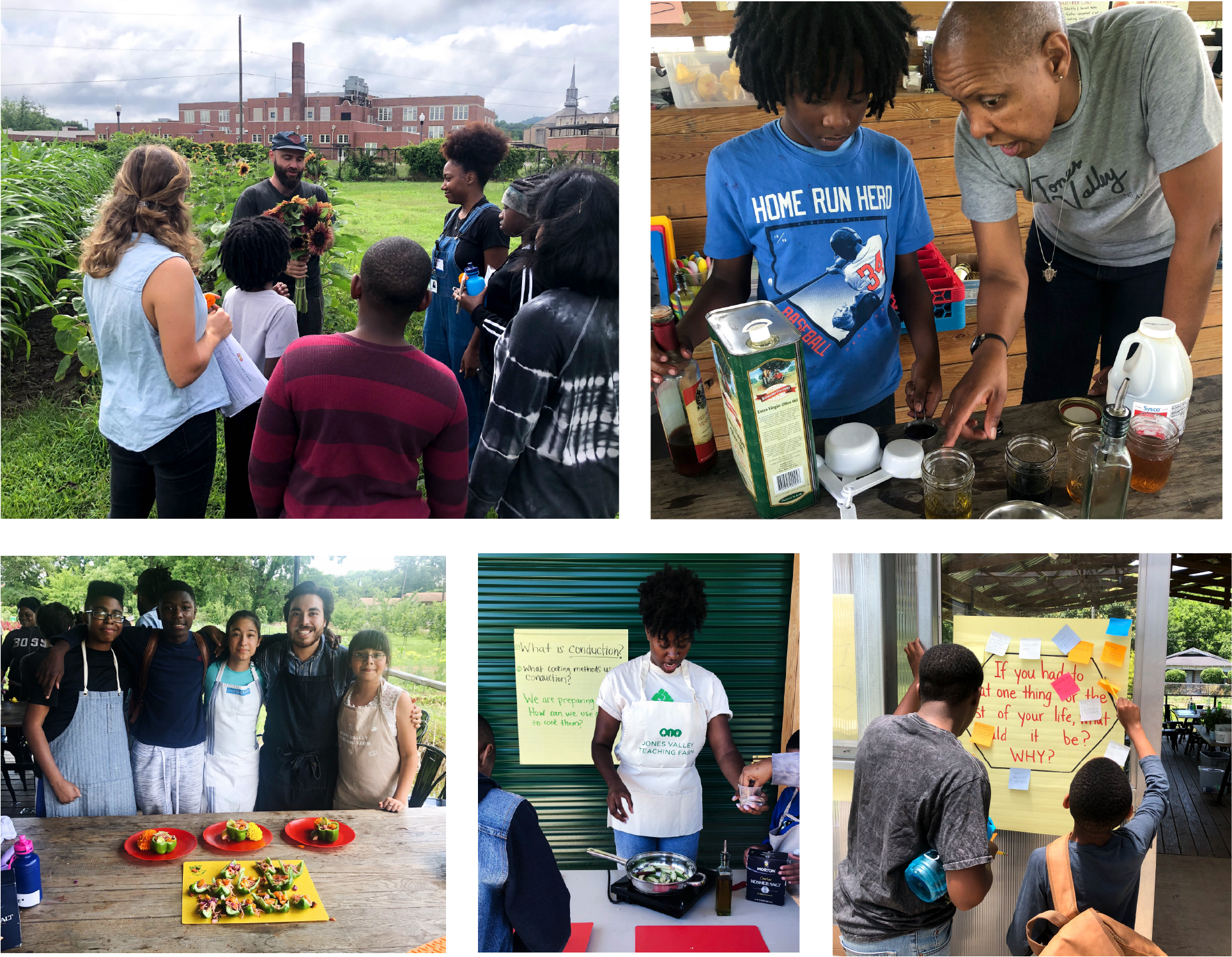 WEEK TWO:
Field trip week! First, we visited Rodney Scott's BBQ where campers toured the restaurant, including the pit room. We interviewed Roscoe Hall (general manager, local chef, and artist) about the restaurant's history, his own culinary training, and his relationship with food.
Next up, we traveled to Post Office Pies to visit Chef John Hall and explore behind the scene of a local pizzeria! We started with a Q&A, then toured the dough room and kitchen. Campers were fascinated with the wood-fire ovens and loved tossing their own dough.
Finally, we arrived at Bottega Dining Room! Frank and Pardis Stitt welcomed us to their restaurant and introduced Dolester Miles (James Beard Award winning pastry chef) and John Rolen (Chef de Cuisine). Chef Miles frosted a coconut cake, showcasing her dessert artistry and Chef Rolen demonstrated techniques used to create their in-house pasta. We asked Frank and Pardis SO many questions, including things like what inspires them in the kitchen and what it's like to manage multiple successful restaurants. Afterwards, campers got a tour of the bustling kitchen!
Following each field trip, teams worked on developing two recipes to test for the Community Dinner. On the final day of week two, campers spent the day preparing their two recipes for a whole group tasting. Team Shadow Wolf made savory empanadas and mini stuffed peppers. Team Support Mother Nature made "dragons breath" stir fry and stuffed potatoes. Team Veggie Heroes made ratatouille and veggie grilled cheese. After samples were handed out, each group received feedback from their peers to help them narrow it down to one dish.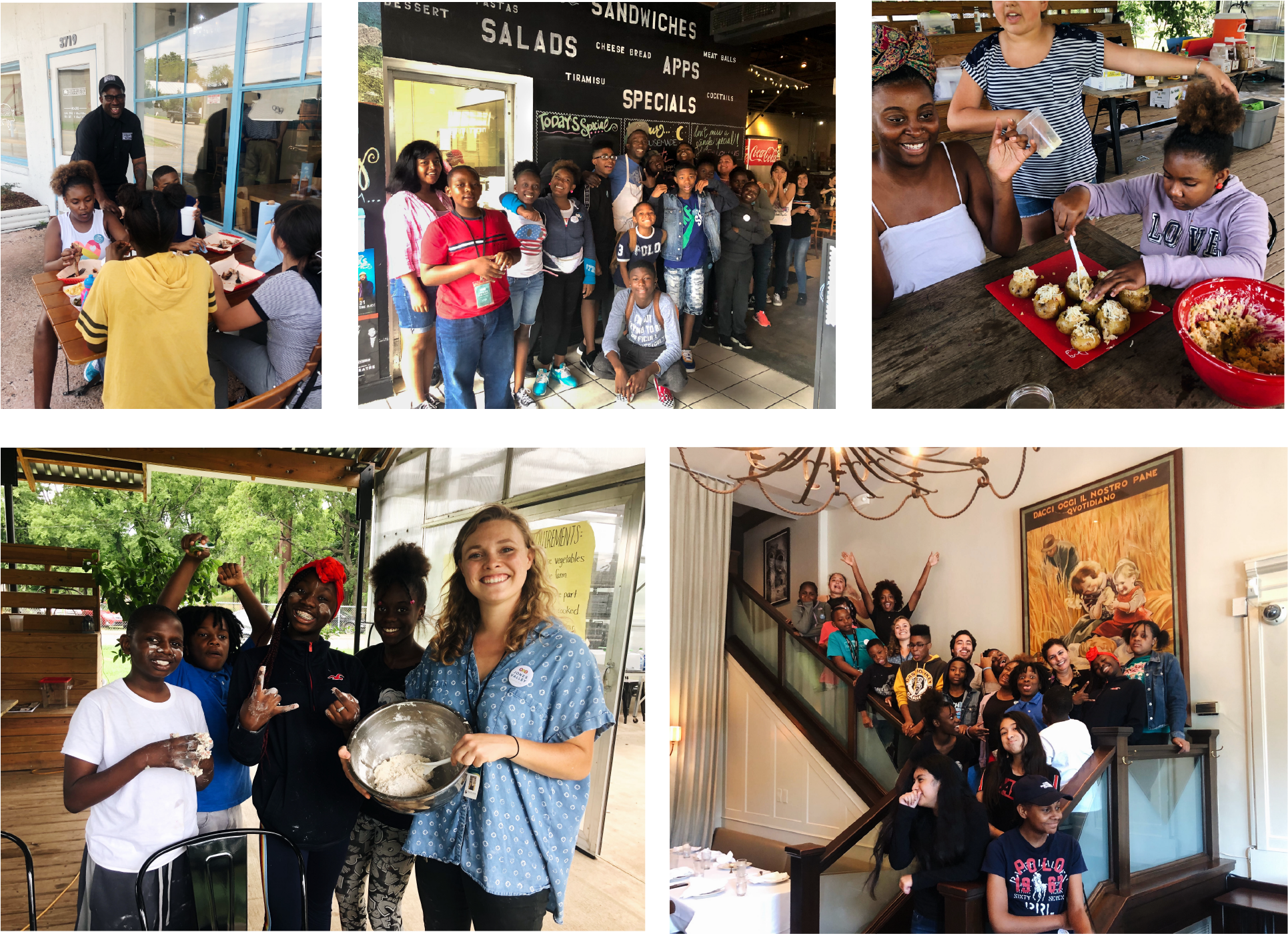 WEEK THREE:
We kicked off week three with a visit from Chef Thyme Randle! Chef Thyme spent all day with us, reviewing knife skills, seasoning with fresh herbs, and cooking as a vegan. The dishes we created together came straight from the farm! As Chef Thyme cooked with us, he spoke about how cooking is a form of art – the ingredients are your paint and your plate is your canvas.
On day two, we toured Meredith Food Studios to get inspiration for our dishes. Campers got a behind the scenes look inside their multiple test kitchens, including an upcoming cover shoot for Food & Wine Magazine, recipe development in action, filming for a video segment, and their massive prop room! Thanks to Meredith Food Studios and Allison Lowery for teaching us about all the unique opportunities within the culinary world!
The final two days were spent chopping, sautéing, & blending veggies, finishing recipe cards, and overall preparing for the Community Dinner. Team Support Mother Nature whipped up their "Dragon's Breath" Stir Fry, Team Veggie Heroes assembled their Veggie Grilled Cheese sandwiches, and Team Shadow Wolf stuffed and baked their Veggie Empanadas. Before guests arrived, we celebrated everything our campers have learned and accomplished over the last three weeks. Each camper received an apron, a cutting board, a kitchen utensil, and a handful of badges (such as Knife Whiz, Measurement Master, Food Safety Officer, and Recipe Wrangler). Students welcomed their families and community members to the farm, offering samples of their dishes and giving tours of the space.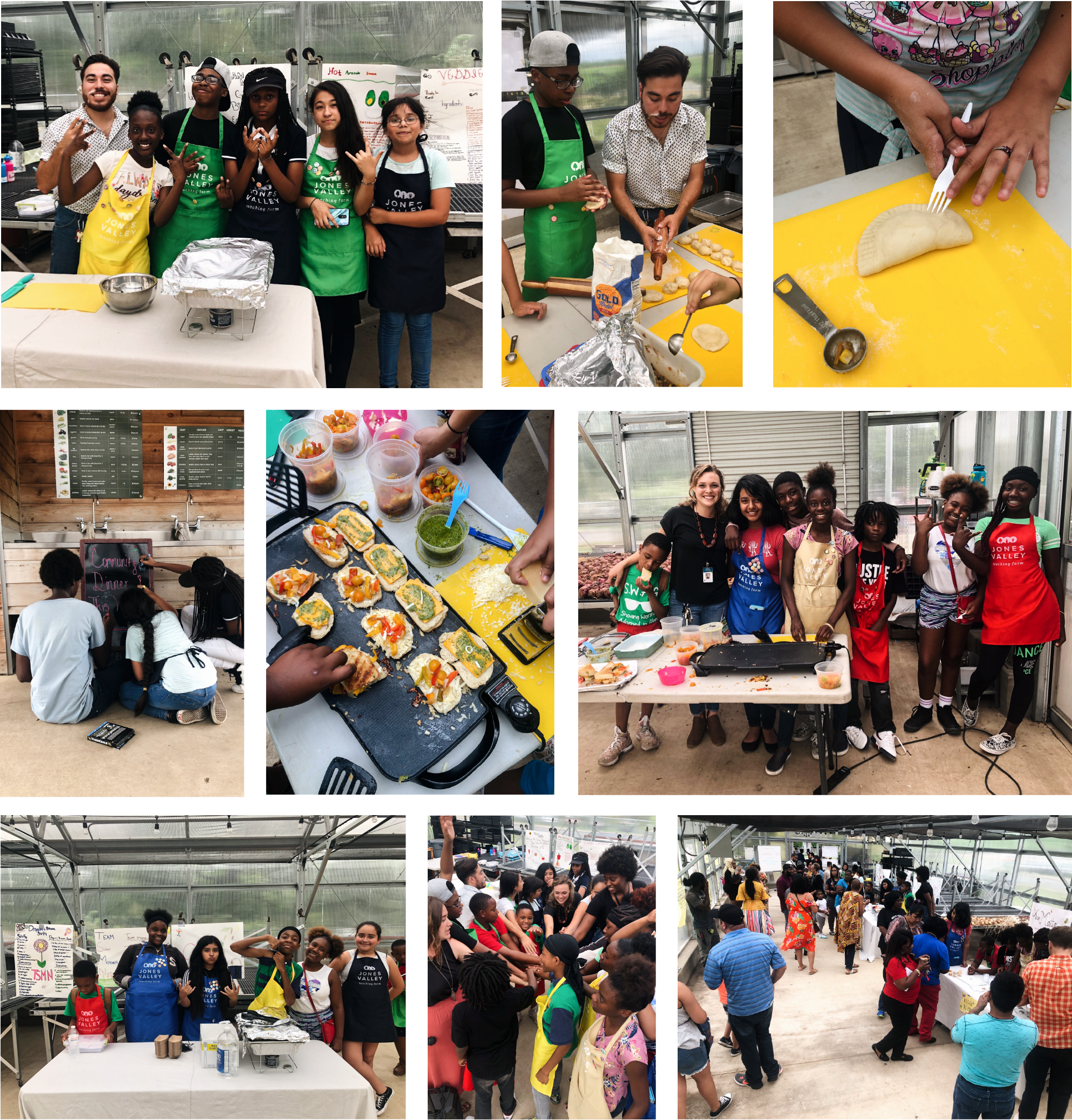 Camp Grow 2019 was a blast! We are sad to see it come to and end but we're already looking forward to next year! We're incredibly thankful for the local chefs and restaurants who were so willing to participate and make Camp Grow even more special: Chef Ama Shambulia, Bottega Dining Room, Emma's Southern Cuisine, Jim 'N Nick's Community Bar-B-Q, Meredith Food Studios, Piggly Wiggly, Post Office Pies, Rodney Scott's BBQ, and Chef Thyme Randle!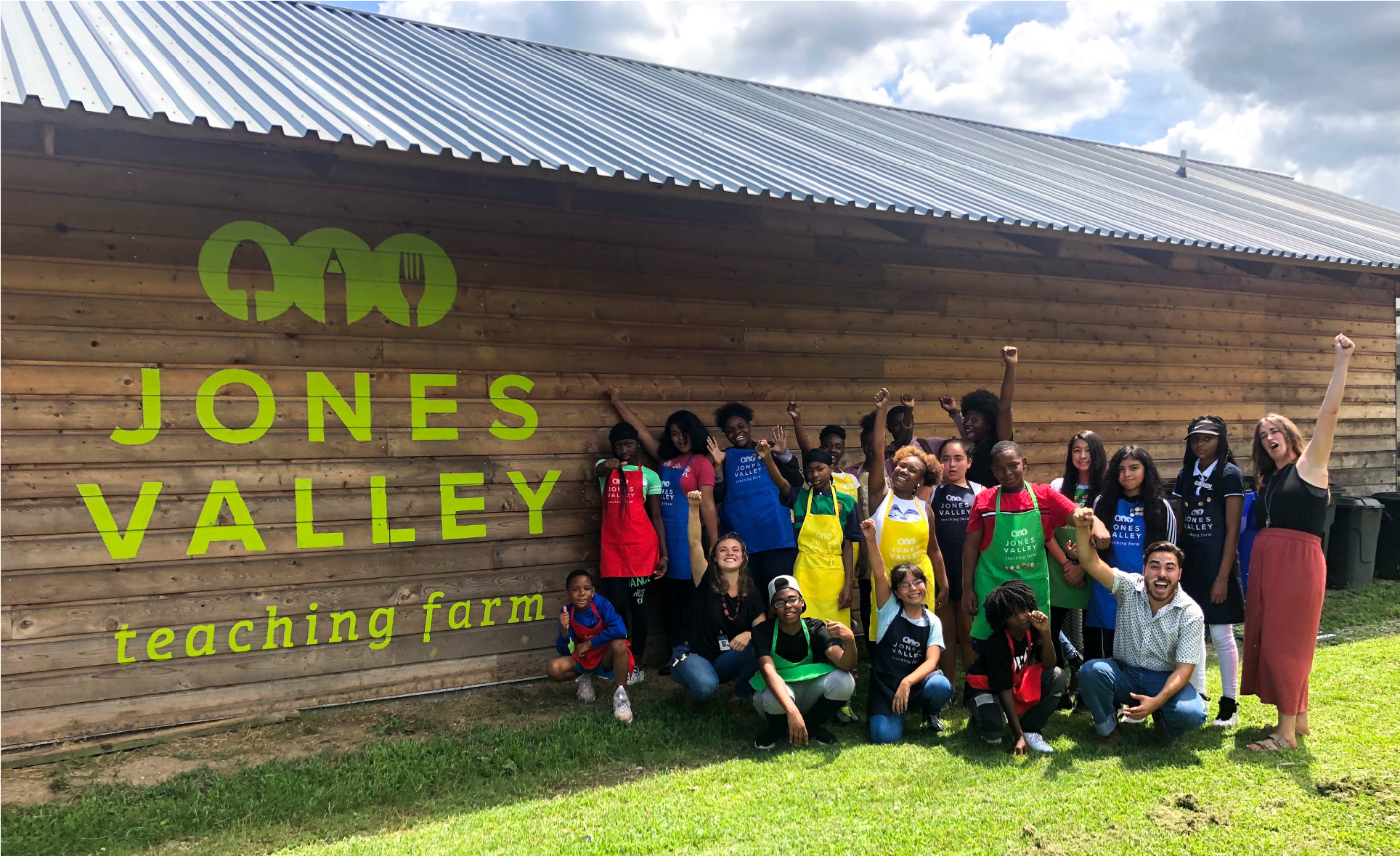 For four weeks this summer, Glen Iris Elementary School and B.R.E.A.D. put on the Wild & Free Summer Camp Monday through Thursday for K–6 students. During this time, Jones Valley Teaching Farm Instructor, Hannah Feroce, partnered with teachers at the camp to deliver hands-on standards-based lessons each morning and fun activities on the Teaching Farm in the afternoon (bouquet making, snacks, harvesting, art, and more!).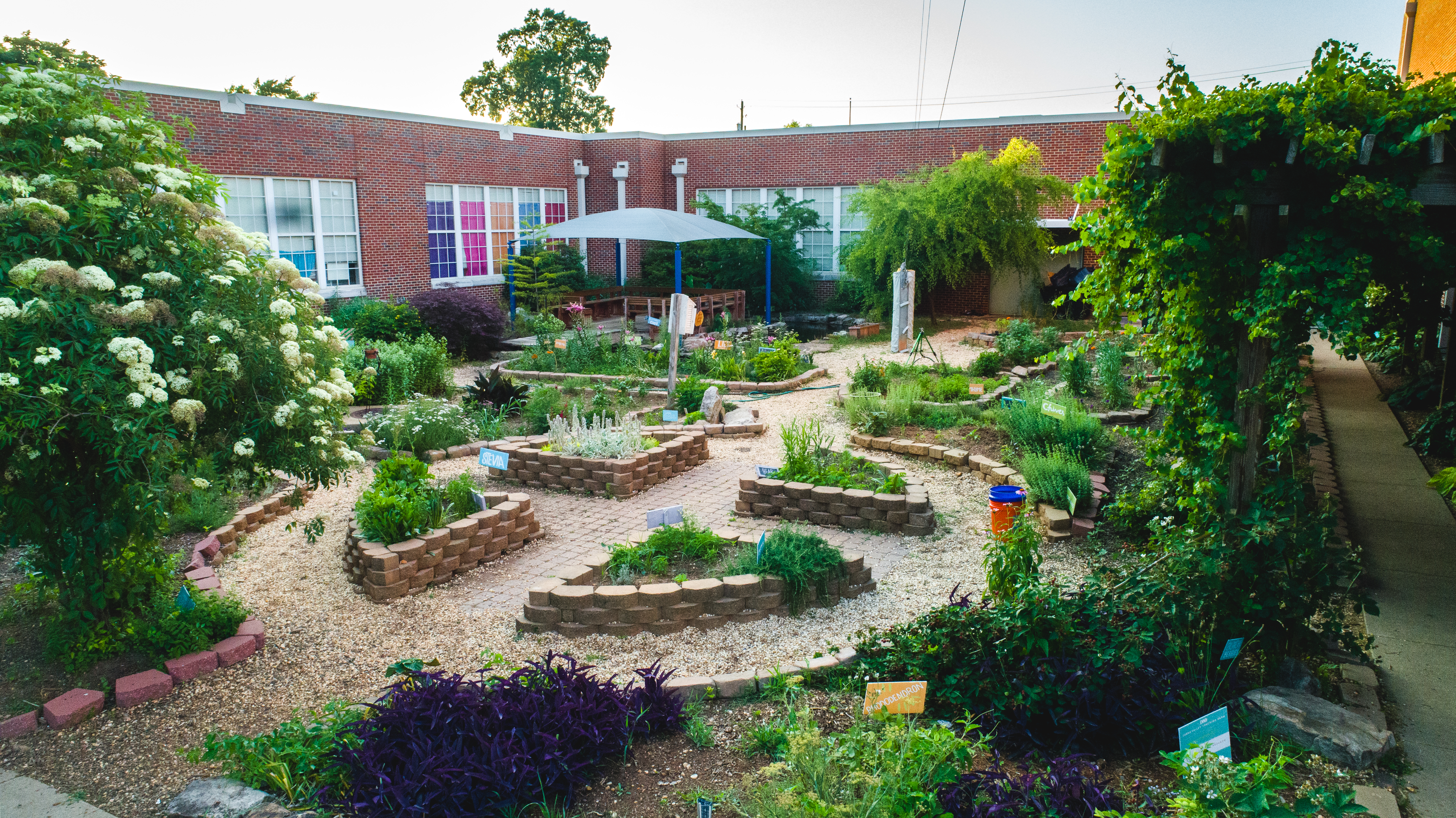 During a morning math class, 4th grade students came to the Teaching Farm and practiced fractions by cutting vegetables for a veggie cup and dip. First, students had a review of culinary safety, discussing how minimize transfer of germs and knife safety skills. Then, they examined whole pieces of cabbage, kohlrabi, carrots, and cucumbers and figured out how to cut them into halves, thirds, fourths, and eighths. Some had multiple solutions! Students took those equal pieces and figured out equivalent fractions of each. Using the vegetables that they prepared, students made a visual recipe, which gave them further opportunity to practice creating fractions.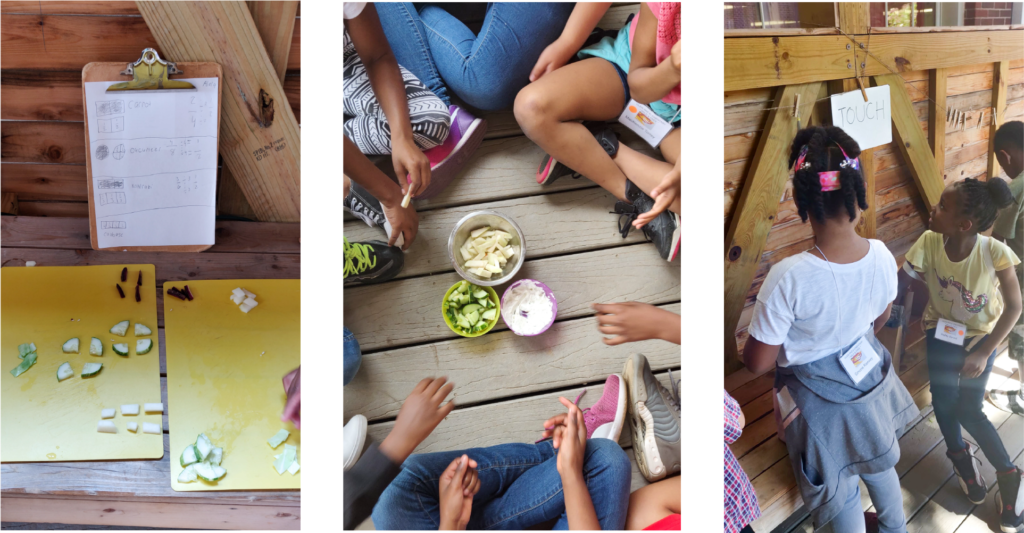 One of the students' weekly field trips was to Desoto Caverns. Because it is dark and unfamiliar in caves, 2nd grade students needed to practice using their senses of touch, smell, and hearing. Beginning at our four sensory mounds of Touch, Taste, Hear, and Smell that focus on a particular sense, students practiced using each sense. After this warm up, they moved through stations that completely isolated each sense. Each station had brown paper bags of tactile crops from the farm that they had to identify using only one sense. Students had so much fun! The smell bags had fragrant lavender, rosemary, and mint. The touch bags had soft lamb's ear and prickly echinacea. One bag even had something surprisingly slimey—it was a cucumber cut in half! The hear bags were filled with seeds and stones. Students then followed up in the classroom by writing about their sensory experience.

On Tuesday mornings at Woodlawn High School, Senior Farm Manager, Jesse Schaffer, and Downtown Farm Manager, Jessica Hill, led five agriculture classes for Woodlawn High School Interns, JVTF Apprentices, and CREW members. They discussed crop planning & seasonality, integrated pest management, weed management, irrigation, and soil health & cover crops.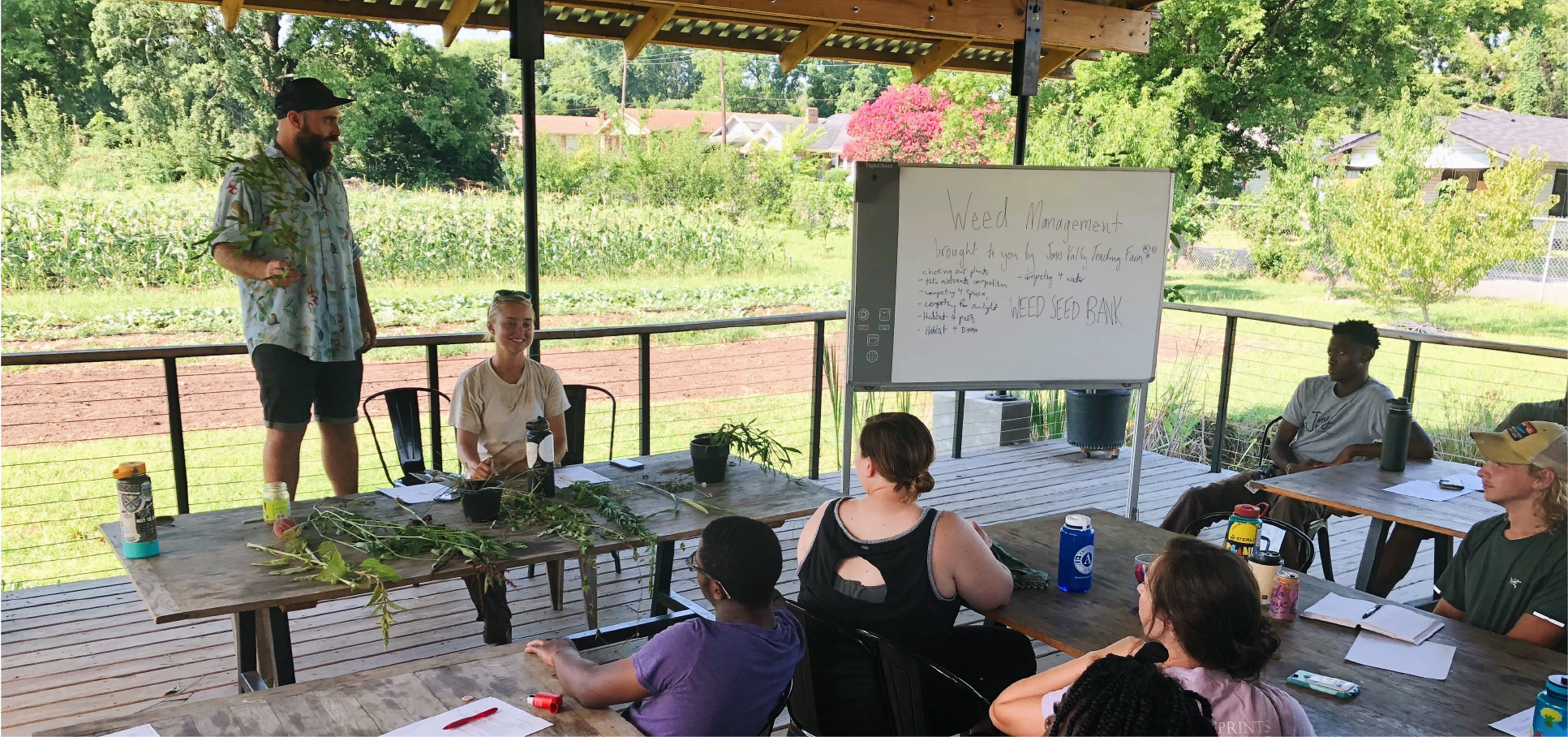 Brain Forest Summer Learning Academy hosts a 5 week summer camp at Avondale Elementary School. Jones Valley Teaching Farm Instructor, Alan Gurganus, and Teaching Farm Apprentice, Jerick Hamilton, worked with students to make pickles, harvest, taste fruits and veggies, and make bird feeders. One afternoon, 6th grade students made pickles with cucumbers, leeks, and thyme from the Teaching Farm. They also experienced the awe-inspiring sensitive plant that closes its leaves upon being touched!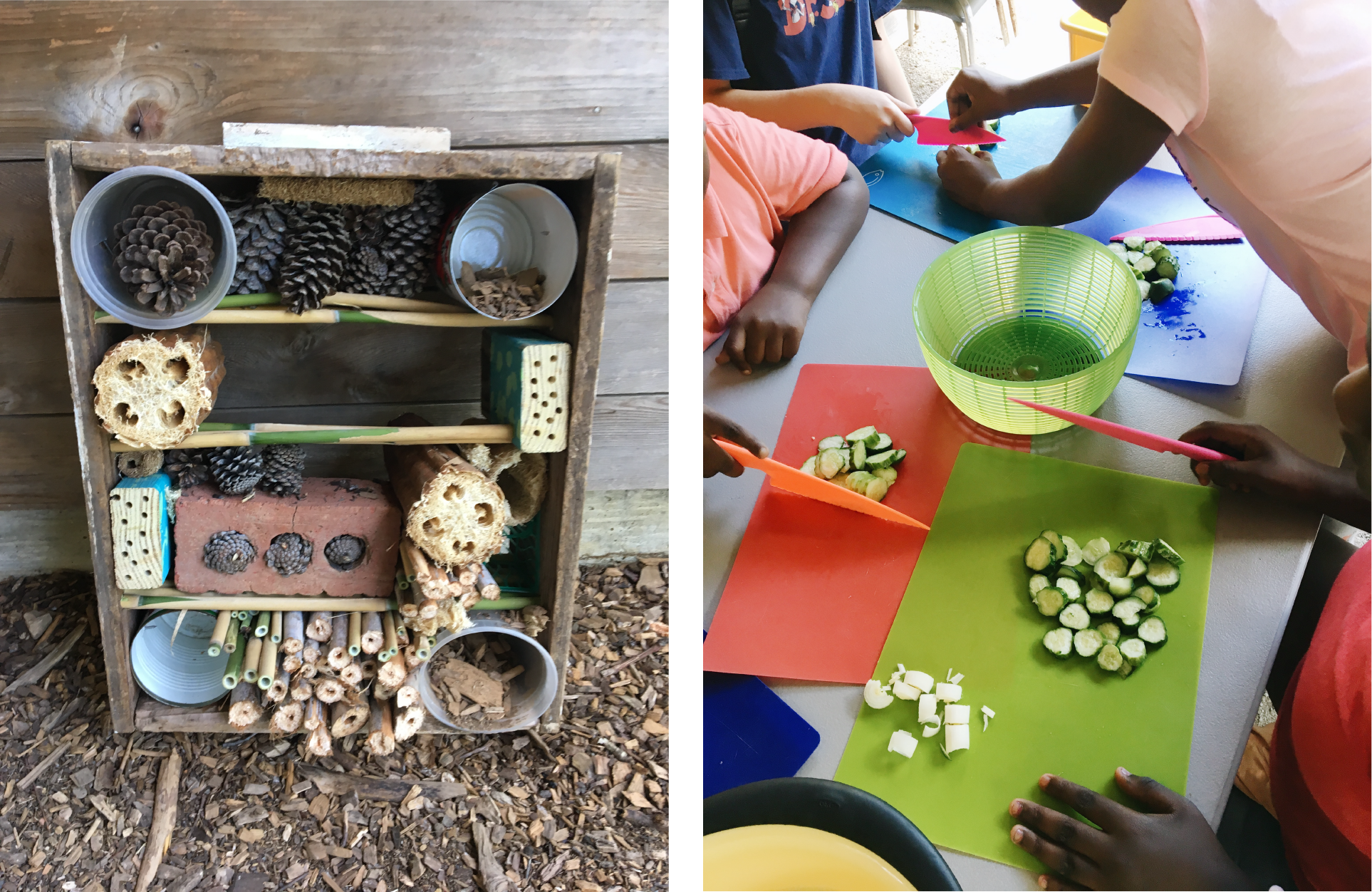 It might just look like a bunch or bricks and pine-cones, but this contraption is very important to the Teaching Farm. This summer, a group of volunteers from YouthServe helped us make this beneficial bug hotel. It serves as a comfy, cozy home to insects that help polinate our plants and fight off insects that harm our plants. Come greet our new residents next time you visit!