Ready in 1.5 hours | 8 servings
INGREDIENTS:
1 lb. ground beef, thawed

1 onion – ½ finely diced,

½ slice

1 bell pepper – ½ finely diced,

½ sliced

1-2 green onions, thinly sliced

Oil

1 cup breadcrumbs

3 bouillon cubes

1 tsp honey

2 tsp soy sauce

2 tbsp mustard

Spices: onion powder, garlic powder, cinnamon, seasoning salt, paprika, black pepper, total seasoning

Optional: other veggies (potato, carrot, broccoli, etc.)
DIRECTIONS:
In a bowl, combine 1 cup breadcrumbs, 2 tsp onion powder, 1 tsp garlic powder, ½ tsp cinnamon, 1 tsp seasoning salt, ½ tsp black pepper, 1 tsp paprika (adjust for spice), and 1 crushed bouillon cube. Mix well.

In a gallon ziplock bag, combine diced onion, diced bell pepper, and a handful of sliced green onions. Coat with 1 tbsp oil. Add in ground beef and breadcrumb mixture. Close the bag and mix until well combined.

Preheat your oven to 300F and oil a baking dish. Coat hands in oil and form meat into balls 2-3" across. Place meatballs in rows, leaving a little space between each one. Once oven is preheated and meatballs are formed in the baking dish, cook in the oven for about 30 min as you prepare the rest of the soup.

As meatballs are cooking, chop any other veggies you want to add to the soup into large cubes.

Heat a pot over medium heat. Add enough oil to coat the bottom. Once oil is heated, add sliced onion and remaining green onions. After 1-2 minutes, stir in sliced bell pepper, 1 tsp garlic powder, 1 ½ tbsp mustard, 1 tsp total seasoning, 1 tsp honey, ½ tsp chili powder, 1 tsp black pepper, and 1 bouillon cube. Stir to keep from burning.

Add 2 cups of hot water and chopped root veggies (if applicable). Bring to a boil.

At this point, your meatballs should be ready to go in the soup – it is okay if they are not cooked all the way through yet. They will finish cooking in the soup. Take meatballs out of oven and use tongs to carefully place them in the boiling soup. Gently stir. If needed, add water to ensure all meatballs are submerged.

Bring the meatball soup down to a simmer. Gently mix in 2 tsp soy sauce and 1 bouillon cube. Taste and add salt as needed. Cover the pot and simmer until root veggies are soft, about 10-15 min. Stir every 2-3 minutes, being sure to scrape the bottom.

Turn heat off. Allow to sit covered for 3-4 min. Serve with rice or bread. Enjoy!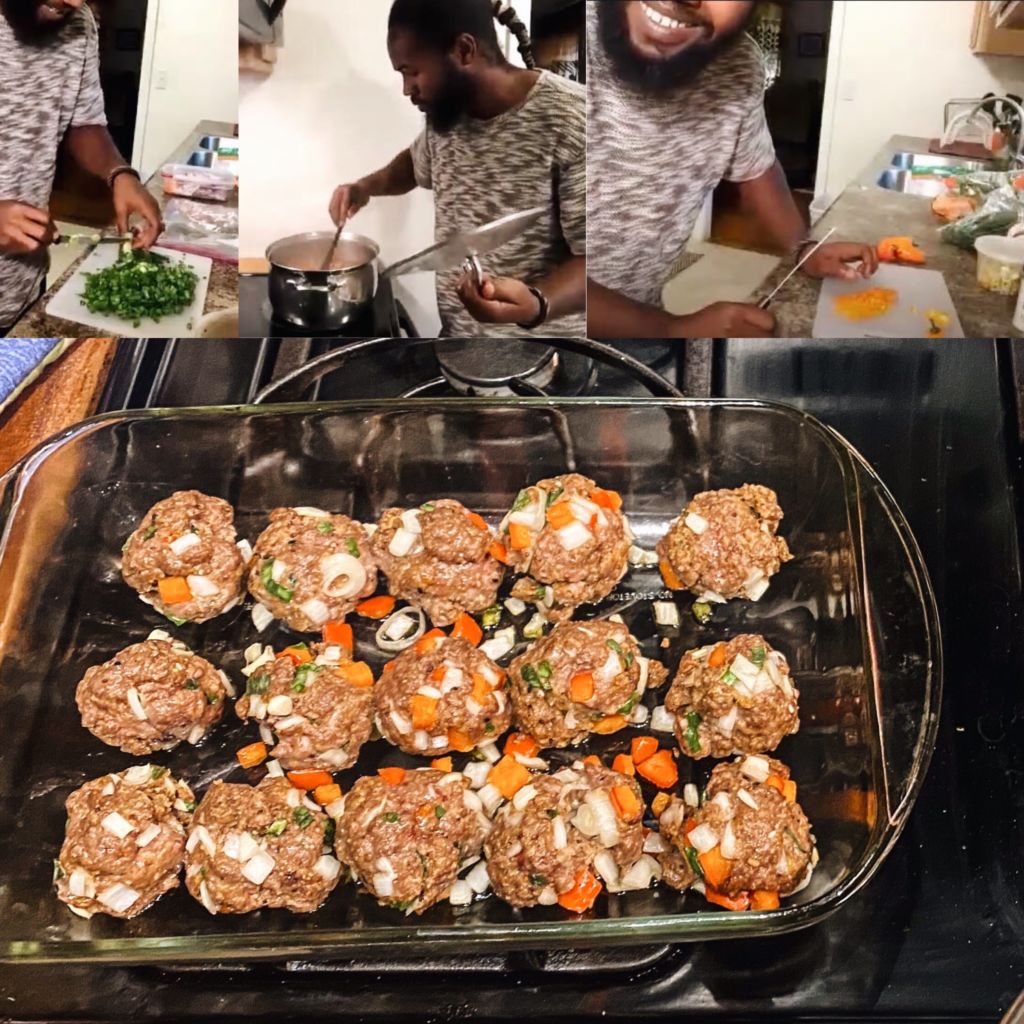 Did you love this recipe? Let us know! Tag @jonesvalleyteachingfarm or email your creation to info@jvtf.org.