Katie Davis
Interviewed by Ann Laurel Latimer
Photography by Cary Norton
—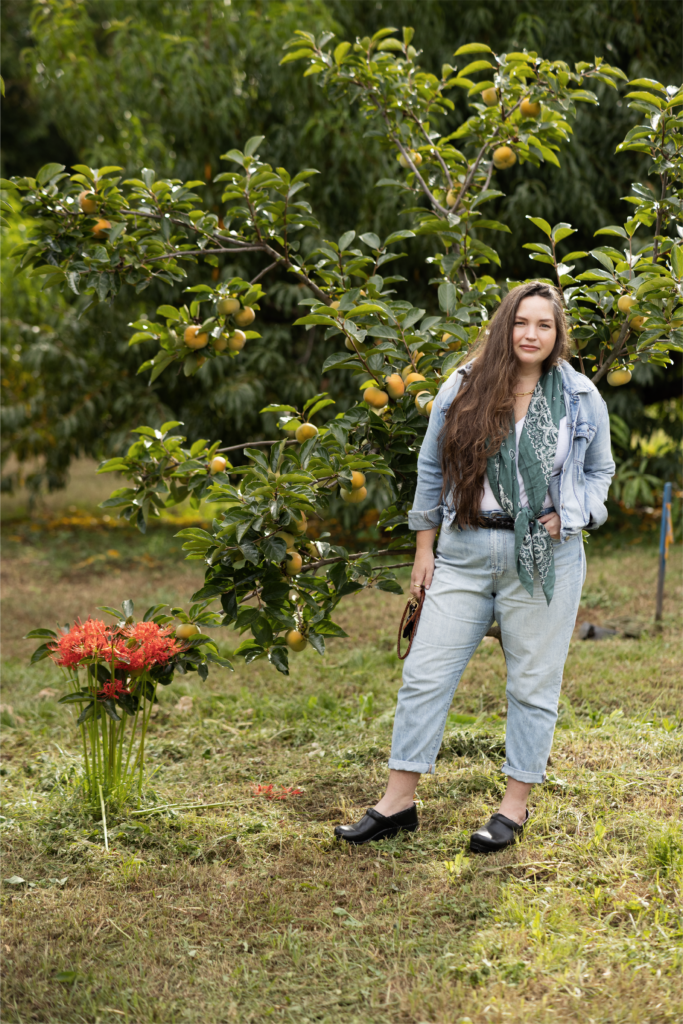 Farming is a practice of patience, determination, vision, planning, and connection with place and people. These are just a few of the traits exemplified by our very own Katie Davis—and felt by anyone who has visited one of our 7 Teaching Farms or had the opportunity to work or volunteer at JVTF with her. Her fingerprints are evident among all of our sites as she was integral in the thoughtful creation of each one, beginning with farming the Downtown soil herself as the Farm Manager over 13 years ago. Please join us in celebrating all that she is to the organization, the students we learn with, the crops we grow, and the communities in which we work.

Reflecting on your time at JVTF what was the initial reason you came to this work?
I think I initially came to this work wanting both to expand my skill set as a grower, to grow in this climate, but also to bring back knowledge and skills to the community where I'm from. What does it mean to grow where you're planted and being able to come back and work on this new block that I passed everyday on my way to high school, but to grow food and initially really to work with students. The work with the students drew me here with our first internship with the school of fine arts and wanting to be able to share my skill set that I had to travel pretty far and pretty wide to get to. And I just wanted to bring that full circle.

What is the greatest impact JVTF has and continues to have on community and individuals?
Greatest impact is a really hard one to say because I don't think we've seen it and it continues to evolve. Watching the relationships and connections people continue to build on this site, through this work, on all our sites. There's something that's being woven, and you can't see the whole picture yet. But I think the impact is profound in individuals' lives in the way that this work touches and moves people.

What are your biggest dreams for the Center for Food Education?
My dreams for the Center are that this site continues to be a beacon and draw people to the table together to have conversations that lead to us doing the real work that needs to be done around the future and the health of our individual and collective body. There's a lot of aspects around health and what that means and some of that is the food at the table. Some of that is the decisions we make when we put food in our carts or decisions we make about the future in the ways that we grow the food—taking care of our environment and taking care of our young people. And I think this place for me is so tied to a hopeful future where we are taking care of our environment and each other, and I just want it to grow and be fed by people.

Final thoughts? Anything you're just itching to share?
From the very first time that I set foot on this site, over a decade ago, the dream has been for us to find a place in the community where we could lend some permanence to this work, that we could plant an orchard without the fear of being displaced before we saw the fruits of that crop and having a permanent home for this work and a home that still is in the heart and center of a city I think seeing this place come to a point of permanence just really excites me. And I'm so thankful to be a part of this journey and of what everyone who loves this place will continue to help create.
 I think some of my most fun times or my fondest times are like unscheduled and unplanned fun when you're just coming up to water on the weekends when you come across a group of kids that have taken over the site for the weekend that are making it their own that are exploring in all kinds of ways and have found this garden and found it to be a safe space to be themselves and just taking the time to pause and be a part of that, to enter into their games and fantasies and to play.