WHAT IS GATHER?
The Gather concept is a smart, of-the-moment fundraising idea that lends itself to seasonal entertaining opportunities throughout the year. The roots of the program are togetherness, food, generosity, and community. Particularly in the South, sharing food with those we care about is a longstanding, important tradition. Most of us grew up with grandmothers and great-grandmothers who delighted in serving family-favorite recipes for Sunday dinner , birthday celebrations, or just about any holiday. We attended countless church suppers, funeral lunches, family reunions. Gather borrows the spirit of that love and generosity through food.
The idea of philanthropic entertaining is timely and appropriate for today. So many people are over-scheduled and way too busy, but their hearts are in the right place: they want to see their people more, and they want to make an impact in their communities. So what a great solution, for any group of people, any age, any place, any amount. Give a party for a cause.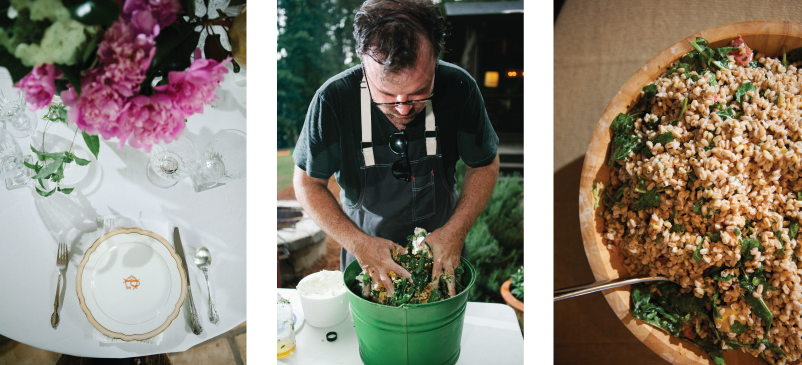 HOW DOES IT WORK?
Gather dinners can be anything you want: elaborate sit-down meals to casual backyard bbqs. Break out the fine china, family-style pasta platter, or order some pizza and watch your favorite movie or ballgame.  Put together a menu and a guest list, and you are halfway there! It is completely up to you! Whatever approach you take, know your guests are creating community by gathering around food — all the while learning more about the vision and mission of JVTF.
WHEN IS IT?
This year, Gather dinners will take place either May 17, 18, or 19 OR July 19, 20, or 21. There are 10 slots open for each weekend. To reserve your spot as a Host, fill out this form!

THEME IDEAS
Previous Gather Host, Candace Higginbotham, created a list of dinner ideas to inspire you!
Girls Night: Moms and busy singles never have enough time for their gals. This could also be a good networking opportunity: gather a group of professional women who you think should know each other.

Milestone Birthdays (30, 50, 50, 60) or any birthday. Facebook has shown how successful this can be. Celebrate your own birthday or that of a friend, and instead of gifts, your friends contribute to a great organization

Movie Night: This could be a small group of friends getting together for a low-key evening. These parties don't have to raise thousands of dollars. Every little bit counts

Appetizer Pot Luck: a cocktail party with one signature drink and apps from all your guests makes for a fun and interesting evening. The more diverse your friend group, the more delicious your snacks!

Bunco or Book Club: if you already have a friend group that gets together regularly, make a quarterly meeting a JVTF Gather night and contribute to a great cause

City-wide Dessert Buffet: pick up a coconut cake from Fonfon, some baby bites from Pastry Arts, banana pudding from Saw's, a chocolate tart from Chez Lulu, a few pop-tarts from The Essential, along with a couple of bottles of prosecco, and you have yourself a sugar party!

To learn more about Gather and how to host, click here!