In the Spring of 2018, Jones Valley Teaching Farm received a grant through the Healthy Food Financing Program of the Alabama Department of Economic and Community Affairs for a Farm Stand at the Woodlawn High School Teaching Farm. Soon after, sixth, seventh, and eighth grade students from W.E. Putnam Middle School and C.W. Hayes K-8 school were invited to the Woodlawn High School Teaching Farm to participate in Camp Grow, a summer program with a focus on the Design Process. Students worked in small groups, lead by Teaching Farm Apprentices Jerick Hamilton and Zee Wilson. Camp Grow's ultimate goal was to have students design a structure that would serve as a Farm Stand at Woodlawn High School.
Jerick and Zee lead students through a handful of activities to strengthen their bond as a team, boost their critical thinking skills, and build their understanding of food access as a concept. Students dove into the Design Process by discussing how the community could benefit from consistent access to fresh fruits and vegetables throughout the year. Students were challenged to research designs to build on their initial ideas.  The entire group brainstormed features that should be included, then eliminated those that didn't seem cost-effective or necessary. Students asked questions to local market experts like, "Where would it be most visible? " and "Where would it be easiest for customers to access?" After pros and cons were voiced for each possible placement, everyone agreed on a site and began to map out the dimensions. Jerick and Zee led groups through the process of creating scaled drawings which later served as outlines for their scale models. Once complete, students presented their designs to a group of Jones Valley Teaching Farm Staff and answered detailed questions about specific aspects of their design.

During the Fall, the students' final designs were taken to Architecture Works, where they were combined and actualized into a blueprint. Jones Valley Teaching Farm obtained the necessary permits, and construction of the Farm Stand at Woodlawn High School was completed  over the winter months. 
On May 2nd, Jones Valley Teaching Farm hosted a grand opening celebration for the Farm Stand. Woodlawn High School's Market Club prepared tasting samples using a variety of Teaching Farm Produce and W.E. Putnam Middle School's Market Club hosted a cooking demonstration lead by Teaching Farm Apprentice, Telvin Caples.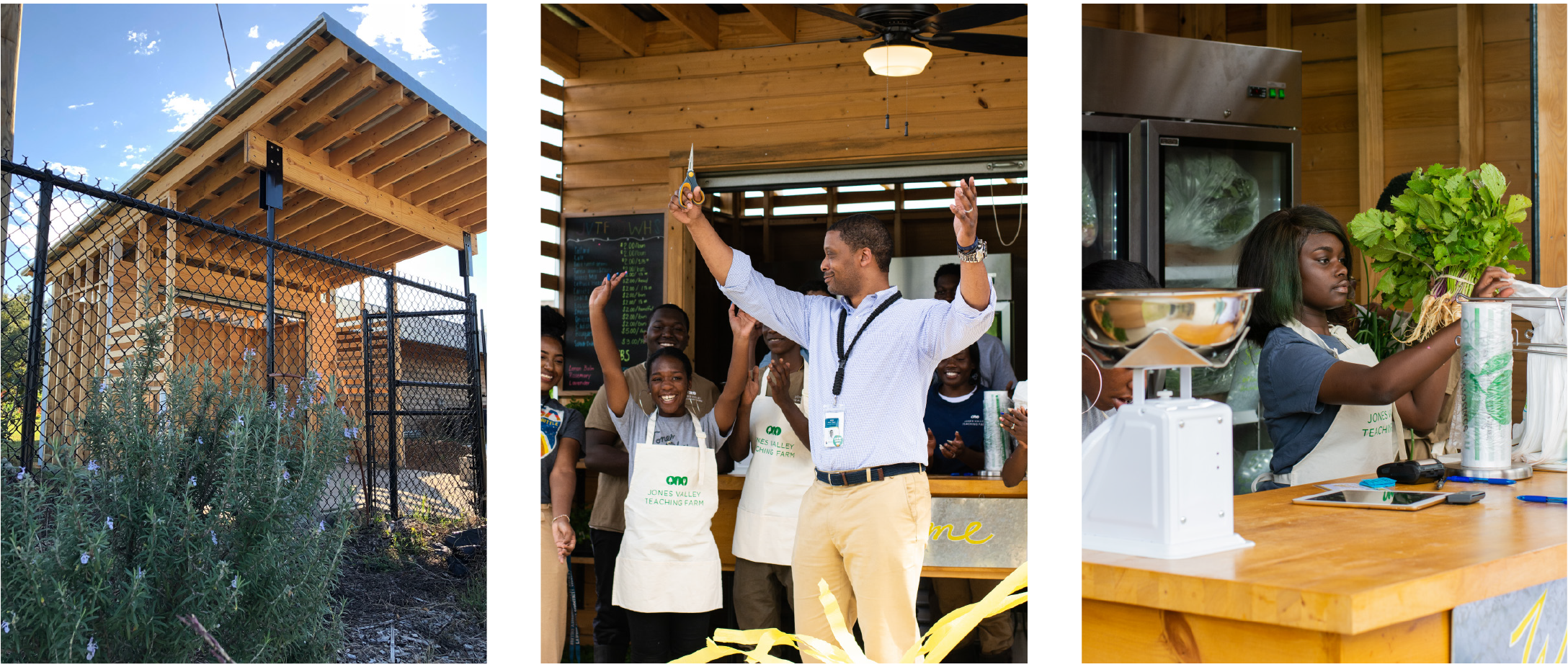 Visit the Farm Stand at 253 54th St N 
Tuesdays, Wednesdays, and Thursdays from 3:00-5:30 pm 
Cash, Checks, Card, SNAP/EBT accepted.